Handheld Infrared Forehead Temperature Gun Spot Direct Sales Non-Contact Body Temperature Sensor
stars, based on
( 4 )
reviews
COUPON
$200-$10 : H1EWGYMQ2ON5
$500-$50 :AJA91V9KSF4Y
$1000-$120 : IW85YTPL6DDK
Product Description
Non Contact and 1 Second Mesurement: One-button fast temperature measurement. Non-contact infrared measurement, while avoiding cross infection. Measuring distance is 3-5cm.
Multi-Mode: The Forehead thermometer is designed for all ages, adults, infants and elders. It not only supports forehead function, but is able to take room/object temperature.
Convenient Memory Feature: You can store up to 50temperature readings and recall them at any time. This comes in handy for keeping a record, and makes it convenient for babies, children, adults, . Also has an auto shutdown feature for power saving.
Sound Reminder:High-accuracy infrared measurement, intelligent algorithm, audible alert for over-temperature. The HD LED screen displays clear and crisp numbers that are easy to read.
Very Accurate Readings: Our ear thermometer has been clinically tested and found to be a fast and absolutely reliable gadget to use. It is ideal for forehead and ear readings, and have a very small error margin(0.1°F for body mode, and 1.0°F for ambient mode. It is actually more accurate than standard mercury thermometers.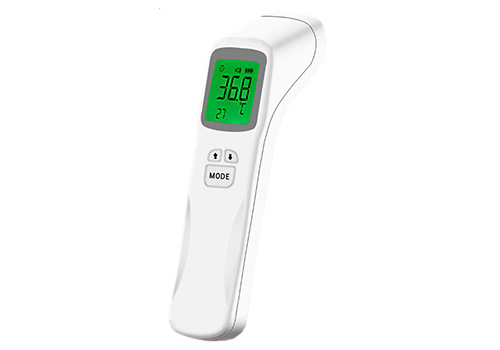 Specifications:
Measuring position: forehead
Measuring distance: 3cm and less
Power source: DC 3V, 2 x 1.5V AAA battery
Measuring accuracy: +/- 0.2 Deg.C ( ranged 32 - 42.5 Deg.C ),
Resolution ratio: 0.2 Deg.C
Clinical repeatable: +/- 0.3 Deg.C
Operating environment: 10 - 40 Deg.C, 85pct RH and less, 70 - 106kPa
Package included: 1 x Thermometer (battery not included)
BymbaptistaThursday, 02 April 2020
Easy to use, bright display, well constructed. Very good value. Appreciate the quick shipping. Nicely packaged. Excellent buy.
ByOakdenSunday, 29 March 2020
ByMelodyFriday, 06 March 2020
Easy to use and accurate measurement data.will buy next time!
ByMacbethSaturday, 29 February 2020
Easy to use, accurate data! good quality!thank you

Your cart is currently empty.